The junior mining sector is littered with projects that have little hope of actually one day being economic mines. As an investor sifting through hundreds of companies, and thousands of projects, it is imperative that one focuses on finding projects that have a reasonable (more than 10%) chance of one day being put into production and actually making shareholders some money.
Some of the key criteria I look for when determining whether an exploration stage project has a shot at being a mine one day:
Scale - Can the ore body(ies) legitimately support a 10+ year mine life at an annual production rate that would interest a large mining company? In the gold sector, I think 2,000,000 ounces is the starting point for projects that could generate interest from majors.
Grade - Usually there is a trade-off between grade and scale. If it's higher grade, then the ore body is likely to be smaller (or deeper and harder to access). And vice versa. It is rare to find a deposit that is higher grade and also bears the sort of scale that would support a 10+ year mine life.
Jurisdiction - In many ways, this is the most important criteria. Without permits you can't operate a mine, and without infrastructure you can't build a mine and begin processing ore.
Even after all of the above boxes have been checked, there are two other key aspects of junior mining investing:
Management - Key management factors to evaluate include experience, track record, ownership stake, and management focus.
Share structure - Share structure is an often underrated aspect of a junior mining investment opportunity with many investors choosing instead to focus on company projects and/or management team.
In the recent challenging environment in the gold mining sector, it is especially important to find companies that check all of the boxes. It is all too easy to buy shares in a junior gold explorer, then watch the stock slowly fade lower as the company news flow remains quiet.
As I was sifting through the rubble across the junior mining sector in the last couple months, I came across an under-the-radar gold explorer with recent gold drill intercepts that had me do a triple-take. The company's flagship project has the sort of scale potential that could support a multi-million ounce gold resource, and the project has seen limited modern exploration.
Insiders own more than 50% of this company's shares, and the management team has decades of experience working for some of the largest mining companies in North America. In addition, Western Canada and Alaska are attractive mining jurisdictions and the locations of this company's projects are about as good as it gets, with substantial infrastructure and strong local support.
Endurance Gold (TSX-V:EDG, OTC: ENDGF) is a precious metals exploration and development company focused on the acquisition, exploration and development of highly prospective North American mineral properties with the potential to develop world class deposits. Endurance is focused on its 100% owned Reliance Gold Project in British Columbia's Bralorne Gold Camp.
Reliance is a four hour drive north of Vancouver and located ten kilometers north of Talisker's Bralorne Mine, a mine that has produced more than 4,000,000 ounces of gold to date. From an infrastructure and jurisdictional standpoint, Reliance is a very attractive gold project. Endurance has good relations with local First Nations, and the Bralorne Camp has a long history of mining. Additionally, Reliance is accessible by road from the town of Gold Bridge. The project can be drilled year round, and the favorable location/infrastructure means that drilling costs are modest at roughly C$250 per meter all-in.
Reliance is an epizonal orogenic gold and antimony deposit that boasts very high-grade gold along a 1.2 kilometer long structural shear zone: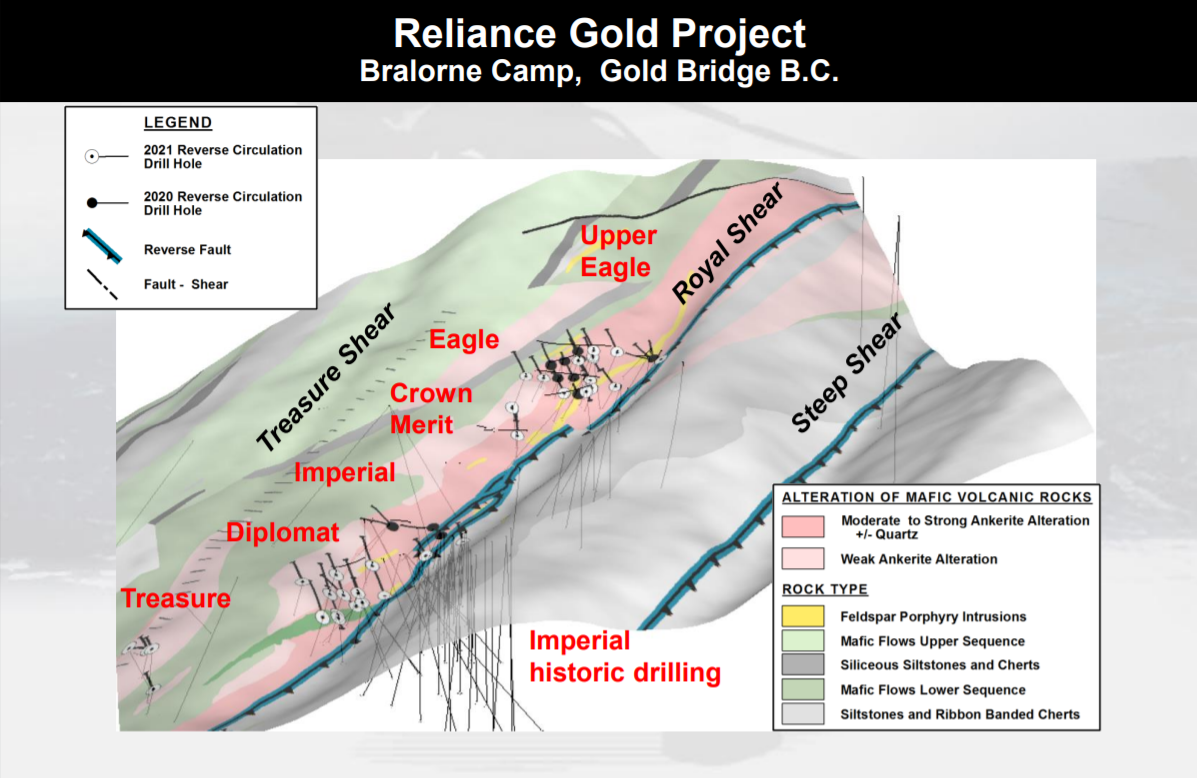 The Royal Shear Zone consists of multiple mineralized zones in various structural settings associated with strong and wide alteration, indicative of a robust gold system hosting multiple geological events within this complex structural discontinuity. Essentially, this shear zone appears to have served as a 'magnet' for metals to collect over time in an unexplored structural setting that parallels, and is similar in genetic age, to the Bralorne Gold mine.
Endurance has had substantial success with RC drilling at the Eagle Zone, the Imperial Zone, and recently the Diplomat Zone. Drill results include grades up to ½ ounce per tonne and impressive widths ranging from 5-15 meters:
Endurance announced recently some very good surface gold results over width from other prospects along the Treasure Trend, which significantly expands the prospective width potential and drill targets along the Royal Shear Trend.
Endurance is in the midst of a 4,000 meter diamond drill program at Reliance. The objectives of this first phase of diamond drilling at Reliance are multifaceted:
Testing the interpreted southeastern extension of Eagle Zone through to the Upper Eagle target
Expansion at the Imperial Zone
Delineating the Diplomat Zone discovered in May 2020
Reconnaissance drilling on newly defined targets.
The drilling is expected to continue through November 2021 and the results thus far are encouraging with the company having posted several core pics via its Twitter and CEO.ca accounts:

Fresh drill core from an intersection in hole 21-06 interpreted to be a continuation of the Eagle Zone at Endurance Gold's Reliance Gold Project in British Columbia, Canada. These core intervals exhibit high level "orogenic textures"
If we consider that a gold-in-soil anomaly extends for 1,200 meters across multiple zones of mineralization (Diplomat, Imperial, Crown, Eagle) and recent RC drilling demonstrates wide, high-grade gold zones that begin at surface, there is significant potential for proving out a multi-million ounce open-pittable gold deposit at Reliance.
The best part is there are multiple shear zones (Camp Creek Shear, Treasure Shear, and Royal Shear) that are sub-parallel to one another, and could each host additional gold deposits that enhance the potential of the Reliance Property.
While EDG's primary focus is the Reliance Project, the company also holds two additional gold projects in Alaska's Tintina Gold Belt. Endurance's Alaska Properties are located in the same gold belt as the Fort Knox and Pogo Gold Mines:
The two Alaska projects (Elephant Mountain, McCord) are road accessible and host similar gold mineralization to Kinross's Fort Knox Gold Mine. These are nice projects to have in the company's portfolio, and as Alaska gains greater recognition as a top-5 mining jurisdiction, these projects could prove to unlock substantial shareholder value over time.
EDG's recent C$0.21 share price represents a US$20 million market cap, hardly appropriately valuing a potential multi-million ounce gold project with multiple 10+ gram/tonne gold intercepts over broad widths (5+ meters). The results of the current 4,000+ meter diamond drill program could deliver the kind of eye-popping gold intercepts that investors simply cannot ignore any more.
EDG's insider ownership (roughly 55%) is one of the largest I have ever seen in the junior mining sector, and Endurance Gold President & CEO Robert Boyd has continued to increase his stake in the company through regular open market purchases of EDG shares:
Mr. Boyd has over 38 years experience in exploration, executive-level management, corporate finance and corporate governance. He is also a member of the Association of Professional Engineers and Geoscientists of B.C., the Society of Economic Geologists, and a Fellow of the Gemmological Associations of Great Britain and Canada.
Strong insider ownership and CEO open market buying is something that I look for in junior mining companies. Following a CEO with the sort of extensive experience that Mr. Boyd possesses is an added bonus.
I have used the recent gold sector weakness to purchase a position in EDG shares on the open market in recent weeks. I have left some room to accumulate additional shares over the coming weeks if drill results warrant a larger stake in the company.
EDG.V (Daily)
Disclosure: The author of this article owns EDG.V shares at the time of publishing and may choose to buy or sell at any time without notice. Author has been compensated for marketing services by Endurance Gold Corp.
DISCLAIMER: The work included in this article is based on current events, technical charts, company news releases, and the author's opinions. It may contain errors, and you shouldn't make any investment decision based solely on what you read here. This publication contains forward-looking statements, including but not limited to comments regarding predictions and projections. Forward-looking statements address future events and conditions and therefore involve inherent risks and uncertainties. Actual results may differ materially from those currently anticipated in such statements. This publication is provided for informational and entertainment purposes only and is not a recommendation to buy or sell any security. Always thoroughly do your own due diligence and talk to a licensed investment adviser prior to making any investment decisions. Junior resource companies can easily lose 100% of their value so read company profiles on www.SEDAR.com for important risk disclosures. It's your money and your responsibility.