Summary
IBO is Canada's only Psychedelic listed company focused on the use of ibogaine for opioid addiction treatment, a modality that is believed to be significantly better than current substitution therapies.
The Company has data in hand from over 3,700 patient trials detailing safety and efficacy that will be used to enhance their Health Canada domestic trial submission for their treatment protocol.
IBO recently acquired a revenue-generating treatment facility to base their testing program and plan to expand this to rural and suburban centers countrywide and beyond.
Psychedelics such as LSD and psilocybin-containing "magic" mushrooms are the most well-known, but ibogaine, a plant-based psychedelic derived from the Tabernanthe iboga of central Africa, which has been used for possibly thousands of years by Pygmy tribes, is gaining notoriety in the West. Not for its recreational use but for increasing anecdotal and clinical evidence showing its ability to help with addiction. The evidence points to ibogaine rebuilding the brain's receptor sites, rewiring the regions associated with drug-seeking behavior. Results seen in addiction detox are powerful and potentially much more effective than traditional substitution with methadone and other therapies that are currently used.
While the use of ibogaine for addiction treatment has been conducted in Mexico and other jurisdictions where it is unregulated, there is only one company in Canada leveraging its potential; Universal Ibogaine Inc. (TSXV: IBO)
Universal Ibogaine's Origins
The origins of TXSV listed Universal Ibogaine start with the Clear Sky Recovery clinic in Cancun, Mexico. Universal Ibogaine's Co-Founder, Dr. Alberto Sola, has administered treatment to more than 3,700 patients using ibogaine as a foundation. This clinic is the world's leader in ibogaine addiction treatment with patients travelling from the further reaches of the planet to meet with the team of clinicians, scientists, psychologists, nurses, and support personnel.
Universal Ibogaine aims to build on the treatment protocol developed by Dr. Sola at Clear Sky to address the opioid crisis, first in Canada and then globally. Their focus on addiction stems from the limited effectiveness of substitution treatments, that replace opioids of the addiction with less potent opioids (usually methadone or buprenorphine), which are then monitored. The success rates for the substitution protocol are disappointing. Dr. Rami Batal, CEO of Universal Ibogaine, notes, "If you look at the relapse rate with substitution treatments, within a year, you might see nine out of ten patients relapse. And although every bit helps, and substitution therapy constitutes a good start in battling this complex illness, a success rate of 10% clearly leaves much to be desired."
Even those with a high incentive to stay straight, criminals on parole, nearly a third (32.9%) relapsed within 10.4 months while using methadone substitution treatment. Worse still, research indicates a high potential for buprenorphine to be "misused, abused and diverted," replacing one addiction for another.
In response, Universal Ibogaine views addiction as a chronic disease that requires a multi-modal prolonged approach and is, therefore, creating a model centered around ibogaine detox that also provides ongoing holistic care.
Ibogaine is used to disrupt the brain's addiction patterns, eliminating the cravings for up to several months. Research into short-term results shows that 1-month post ibogaine therapy, 51% of men and all women patients displayed no opioid use compared to 18% with buprenorphine use. Even better, the long-term results of a New Zealand study showed that 75% or more of participants had negative urine samples at 3, 6, 12 months post a single ibogaine treatment.
This break from their addictive routine allows the patient a "window of clarity" that will then be complemented with supplementary treatment modalities, including other pharmacological agents and psychotherapy (cognitive-behavioral training or dialectical-behavior therapy). This combination allows the patient to address their underlying addiction causes that may be due to behavioral health issues such as anxiety or depression.
Canadian Trials
Universal Ibogaine is preparing its Health Canada Clinical Trial Application to prove ibogaine's safety and efficacy. The vision is to develop a broad suite of medicines and protocols for different addictions with concurrent mental/behavioral health disorders.
Usually, the trial outcomes would be the risk for investors; however, this risk is reduced with over a decade of clinical data from the Clear Sky Clinic regarding safety and efficacy. This data, along with the established protocols, is the foundation of Universal Ibogaine's submission to Health Canada.
Universal Ibogaine wants to take the Canadian trials then and use them as support for similar projects in other industrialized nations.
Universal Ibogaine Plans, Recent Acquisition, and Funding
While a few companies are already in the psychedelic space, the most prominent being Field Trip Health (NASDAQ: FTRP) and MindMed (NASDAQ: MNMD), these companies are broad-based, set on developing psychedelics and then finding uses for them; this strategy lacks a needed focus. Universal Ibogaine is the only public company with a medicalizing focus for ibogaine as a root of addiction treatment. Their first advantage over any competitors is that they have data in hand for beginning Canadian clinical trials. The second is they have recently purchased a facility already providing services for addiction recovery.
In July, Universal Ibogaine announced its purchase of its 50-acre Kelburn Mental Health & Addiction Recovery Centre near Winnipeg. This already revenue-generating facility will be the home of their holistic treatment program and place to develop their chronic disease management approach to addiction.
To fund a portion of this purchase, in September, Universal Ibogaine announced the closing of a non-brokered private placement, which produced gross proceeds of $6 million. Trading of Universal Ibogaine on the TSX-V soon followed, beginning on October 5th.
The Kelburn Centre is the first in Universal Ibogaine's plan to establish suburban and rural recovery centers for Canada and beyond.
Beyond the Canadian trials and its facility development, Universal Ibogaine is exploring ibogaine and other psychedelics for addiction treatment in international jurisdictions which allow their use under specific medical regimens. They are also discussing potential partnerships with Canada's indigenous communities, which have been hit hard by the opioid epidemic and have a long history and value holistic treatment with plant medicines.
Universal Ibogaine's Value Proposition
Since the trading began in early October, Universal Ibogaine's price has floated between twelve and twenty-five cents, presently sitting in the middle at $0.18.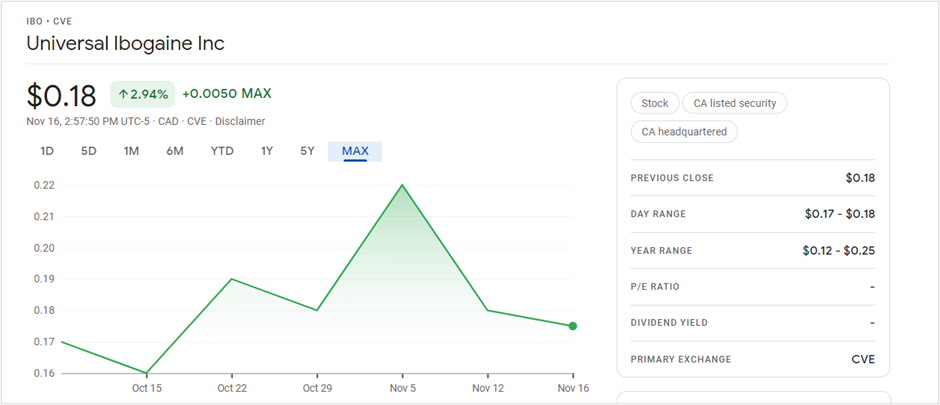 Being a new listing at this early stage, this is likely an undervaluation as UI has several positive attributes going for it:
It is preparing its Health Canada submission with positive data already in hand; if approved, it will be the only government-sanctioned, medically supervised, and safe ibogaine testing in the country.
The promise of ibogaine has already been proven through peer-reviewed studies to outperform current substitution therapies. Combined with the data from Clear Sky, which shows a long and successful record of safety and efficacy, Universal Ibogaine increases its chances of approval for the Health Canada testing.
It has a functioning treatment facility purchased to grow and improve its protocol.
UI has two avenues for profit:
Along the biotech path with ibogaine itself through its commercialization and monetization aiding the inadequately served therapeutic area of addiction and other central nervous system disorders with multiple treatment opportunities in development
Near-term revenue through its clinic operations and expansion across Canada in suburban, rural, and possibly indigenous communities, and beyond.
Universal Ibogaine is in a focused position with a clear pathway to legal, medically approved profits in the psychedelic space where even the largest competitors are only at the pre-transformative stage.
With this combination, the potential for Universal Ibogaine is exponential. If they can build on the curative power of ibogaine and create a wide range of treatments for multiple ailments while expanding into a countrywide and subsequent global network of clinics, their success will resonate among the millions struggling with addiction.